For free alerts & news!
Contact officials!
Find your state officials; then interpret their responses with our Official-Speak Guide.


"We are giving an irresponsible media more fodder to demonize the Legislature. We are giving them too much fodder to destroy us." — sen. Howard Stephenson, President of the Utah Taxpayers Association. Read more...
"House Republican Caucus seeks fun-loving individuals to share warm winter evening." — rep. Jeff "Gigolo" Alexander. Read more...
"...It is necessary to the happiness of man, that he be mentally faithful to himself. Infidelity does not consist in believing, or in disbelieving; it consists in professing to believe what he does not believe." — Thomas Paine. Read more...

What will you do when DCFS knocks? Do what you can to prevent your children from becoming the next casualties in the war on Utah families. See our Parental Rights Now! Action Packets.
How to Request a Government Record
Ever wanted a record, but did not know how to get it? Learn how to make a simple GRAMA request.
Register to Vote Online!
Illegal aliens do it. So can you! Visit the Online Voter Registration for the State of Utah.
SPECIAL NOTE: At this time, we are observing and evaluating the people. We may become more involved again in the future.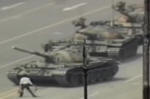 2006 Bill Tracking Page: Witnessing the Fall of a Republic
This page exists to display the fruits of this citizenry and their political choices in the 2006 general legislative session. It is dedicated to those few who refuse to submit to tyranny. Read more.
The Importance of a Time Line in Government Abuse Cases
Most people feel intimidated at the prospect of writing things down on paper, and are even less inclined when state agencies are coming after them. Fortunately, you don't have to be a college graduate in English grammar to write a time line. Learn how now.

Help Stop Terrorism in Utah
Sen. Howard Stephenson is just one example of officials who, by their political actions, promote terrorism, violence, and lawlessness. Share a flier that exposes his record.
Issue in Focus: How Citizens Enable Political Corruption
What are the political weaknesses that obstruct individuals and society from the pursuit of prosperity, happiness, and peace? Learn why we do what we do.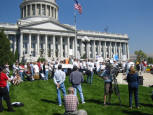 Still Waiting...
Over 200 angry citizens are still waiting for an answer their demands. Read more or view the speeches protesting injustices committed against families by state officials.
...Is this site too harsh and insensitive?
Try this site instead...
Special Reports
---
Read the report.

Infamous Senate Filibuster of Anti-Infanticide Bills


Our shocking expose, "How Anti-Infanticide Bills Die in a 'Pro-life' Senate," reveals official Senate audio and written records, and citizen eyewitness accounts from the infamous filibuster of two anti-abortion bills in the 2003 session.

Would You Laugh?
Listen to your State Senate laugh as anti-infanticide bills are filibustered.

See our Infanticide Report for additional background. (If you have a slow connection, right click on the laugh link above and select "Save Target As" to save the file to your hard drive before you play it.) You can also try this smaller file. For an update on this issue, see the Abortion/Infanticide section of our Issues & Alerts page.

...Was this site too harsh and insensitive? Try this site instead...
---
Disclaimer: Accountability Utah attempts to be both accurate and fair in it's presentations. If information on our site is incorrect, bring it to our attention and we will make a correction. Unless otherwise specified, the information on this website represents the opinions of the individual authors who wrote it and not necessarily the views of the entire organization. The information on this site is for educational purposes only.
Copying Permission: Permission to reprint our articles and material in whole or in part is hereby granted provided that Accountability Utah is cited. Citizens are encouraged to share this information with others.
Warning! If you are under 18 and/or have not yet overcome your government education, YOU are probably too ignorant to understand this politically explicit information.
If you have comments or suggestions, please email us at info@accountabilityutah.org.
Copyright © 2006 Accountability Utah